Welcome to the Epidermoid Brain Tumor Society
The mission of Epidermoid Brain Tumor Society (EBTS) is to inform, educate, support and fund research for those affected by the epidermoid brain tumor. When a patient is faced with surgery for the epidermoid brain tumor, the best decision that one makes is finding a skull base neurosurgeon with extensive experience and  is critical for a successful outcome. With surgery, there is assault on cranial nerves in the skull base leaving possible deficits. The surgery can be life altering with deficits and many months/years of recuperation. EBTS educates and supports the patient and family on their journey regarding the symptoms, the diagnosis, and treatments by their doctors.
EBTS promotes awareness and advocates for research for the epidermoid brain tumor. The epidermoid brain tumor can reoccur for many patients and there is a limit to how many tumors and surgeries epidermoid patients can have before quality of life is threatened. Only with research can these brain tumors be eradicated.
Patient founded, EBTS is an incorporated, non-profit organization, recognized as such by the IRS, and is supported by contributions from individuals, friends, along with corporate grants.
Join us on Facebook to find support and information from many patients from around the world.
#SeasonOfSmiles
 JaNiyah's Journey
JaNiyah received a diagnosis of  an epidermoid brain tumor in the skull base location when she was only two years old. Now, at age ten, she has had surgery four times with many months spent in hospitals and rehabilitation.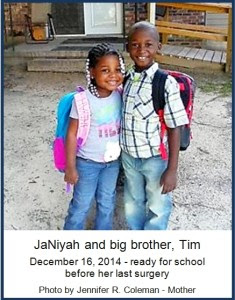 Recently this year, in May 2017, JaNiayh was found unresponsive and was airlifted to the hospital. Now back at home after receiving  hospital care for two months, she is better. Living with a brain tumor daily after surgery can be disabling for the patient. There is always the fear that yearly MRIs will show regrowth, thus another surgery.  For a few, regrowth happens within a year or two if one tiny cell is missed/left at surgical location, then the tumor regrows.  Many of our members have had over six or seven brain surgeries with one member having over twelve.
When JaNiyah's mother joined the Epidermoid Brain Tumor Society, she asked,  "do members have an epidermoid brain tumor?"  After reading posts from others, she soon gained much needed information and support.  She had been told by JaNiyah's doctors of the  rareness of the eidermoid brain tumor and thought that her daughter was the only one in the world.  She quickly found other parents  whose children suffered with the diagnosis of the epidermoid along with the adult members.  She no longer feels alone.
JaNiyah's fourth surgery unfortunately has left her in a wheelchair.  When asked about JaNiyah's favorite things to do, her mother says she likes hanging out with her. Also playing outside with her big brother and looking at movies. The last four years of life, JaNiyah has been subjected to many treatments as the neurosurgeon  tries to treat her epidermoid brain tumor. They can't seem to make it go away or stop growth.
The epidermoid brain tumor is rare and benign. It forms very early in pregnancy, and its effects last a lifetime. Medical literature only has articles of surgery and a few articles that list it as a benign cyst or tumor. Thus, the existence of the Epidermoid Brain Tumor Society (EBTS), formed officially as a 501©3  in 2012 with the goal to facilitate awareness, support and research. EBTS has grown and now has over 760 international members. We want and need research to improve patient outcomes and quality of life. After surgery, there are many members with disabilities who never go back to their old life after surgery.  The skull base is very complicated with 12 cranial nerves that control all functions of the body from swallowing, walking, talking, and breathing.
The mission of EBTS is awareness, support and research. EBTS has joined with Amazon Smile to make this happen for our members and their families!  It is an ideal situation.  We appreciate the donations from Amazon Smile to our organization, as we encourage members to use http://smile.amazon.com/ch/46-2856696   each time they shop!  We are an all-volunteer organization, and all donations are being collected to fund our own research into the epidermoid brain tumor. Amazon Smile works for EBTS.  Thank you, Amazon Smile!
DAY OF GIVING NOVEMBER  28, 2017
Today is #GivingTuesday Thanks to Sharon Maizel for setting this up for us!! TODAY only Face Book and Gates Foundation will cover the fees, and ALL of your donation will come to us! So if you have been thankful for EBTS today is the day to give a little bit back! We are a registered charity, and have an all volunteer Board and Admins who work hard to give you information and support. Our expenses are few, and most of what we receive is earmarked for research into the epidermoid. We need to know what causes them! Thanks to all of our wonderful members! https://www.facebook.com/donate/180913635795837/
Holiday shopping? Consider shopping  with Amazon Smile, where Amazon donates to EBTS, just because you shop with Amazon Smile!   
General Disclaimer:  This website has been designed to provide information and education for the general public and healthcare professionals regarding the epidermoid brain tumor. EBTS does not endorse any commercial product, physician, surgical procedure, medical institution or its staff. EBTS encourages you to contact you own physician for any diagnosis or treatment, and do not change your treatment plan without consent from a physician.
~ EBTS Board