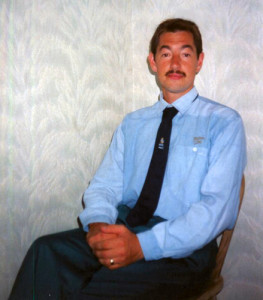 Colin Brittain, a long term UK member of the Epidermoid Brain Tumor Society , has lived in the picturesque town of Whitby for over two decades moving there for the rich sub aqua diving possibilities. As a BSAC Advanced Diver and Open Water Instructor, he enjoyed introducing students to open water diving among the many inshore wrecks off the Yorkshire coast. His later diving preference was for deep diving as part of a dedicated four man team, when not working among the local trawler fleet or on short commercial contracts. This is his story.
Although always suffering from headaches, I believed them to be sinus issues. In 1999, with deterioration in my hearing and balance problems, I consulted my GP whom initially diagnosed stress as the culprit and being more forceful; he referred me onto an ear, nose & throat consultant who sent me for routine MRI scans.
I returned on my own for the results, knowing how the inner ear controls balance and is connected to the sinus, I thought I might need a simple day case procedure to resolve my problems. I was completely unprepared for what she had to say. She told me in a cold clinical way that I had a brain tumour, an acoustic neuroma, and would receive an appointment with a neurosurgeon dismissing me with a leaflet. Back home my wife was as shocked as I was. We sat there for sometime wondering how we could tell our children and what the future held for us all. As a slow learner we worried about our son aged 16 than our daughter who was 11 going on 16.
I set about learning what I could on the internet and was scared to learn what was involved. It did though allow me to create a list of questions for a neurosurgeon. I received an appointment just a week later, and we went with my mother as a family for what has been the hardest consultation I had ever had.
My neurosurgeon, Mr. Kevin Morris, sent me for more MRI intensive scans. He showed us the MRI scans, and we were frighten on seeing the brain visibly pushed over to the side. Being congenital, the tumour had been growing for 35 years in which it had invaded many of the brain's ventricles. He described the size as being around the size of a large orange, and since then I have always referred to the tumor as 'Jaffa,' the fruit which originated in Israel but now largely Spanish grown. He was convinced the tumour was an epidermoid, and that because of its size and invasive nature, he had no option but to treat it as three individual tumours. He scheduled surgery for a week later and horrified as we were, it would at least not give me too much time to dwell on things. It was the hardest week of our lives, and we barely spent a minute apart.
I had to accept that my deep diving was over, and that I could not responsibly carry on teaching students to dive. I did though hope that one day, I might get back into the water even if only for shallow water dives. Diving was such a large part of our lives. My wife ran a local dive shop whilst I did all the rest of the duties, servicing equipment, taking clubs out on the charter boats and running the decompression chamber for visiting clubs.
My first surgery was over 12 hours and was a horrifying experience for my family. I don't really recall very much of the time immediately after the surgery. After just one week, I was up and taking tentative steps, even though I had some way to go, I felt positive having seemingly come through the ordeal. We had no idea that the year ahead was going to be fraught with set backs. The hospital was located a two hour drive from our house, and my family had to lodge nearby to be with me.
Once discharged we made it home, and I was as pleased as our children were to be re–united. An hour later I was feeling funny and noticed my neck was wet. It soon became apparent that the wound was in fact leaking Cerebrospinal Fluid (CSF). At our local hospital they didn't really know what to do, as it wasn't set up for such matter, and consulted one of the neurosurgeons back at Hull. They advised trying to stitch the wound but this only increased the escaping fluid. I had to endure being sent back to the neuro ward. I endured numerous lumbar punctures / drains and was fitted with a shunt before being discharged. A week later I was experiencing extreme headaches, and the original incision was quite swollen. I was once again sent back to Hull where the shunt was found to be blogged and removed. I went through more lumbar punctures / drains, one of which became infected and had to be removed, after which I diagnosed with meningitis. A course of IV antibiotics/steroids were set up, but without any form of drain the hydrocephalus continued. The neurosurgeon attempted to set up another lumbar drain but snapped the needle too close to my spine, and further surgery was needed. He took this opportunity to fit a larger more stable shunt.
Being diagnosed with Temporal Lobe Epilepsy was the absolute end to any hope of getting back to diving, and eventually my employment. During the year I was told my job was safe, but the employer used my epilepsy to remove me from my night shift CCTV job. He offered me a different position, but one that I could not do, and when I refused, he said that "I had chosen to end my employment". We fought it as best we could all to no avail. It's fair to say that it was a traumatic year. Being slow growing tumours at least we could expect no further surgery for at least 10 – 15 years.
In 2002 the neuropathic pain returned with a vengeance, along with tonic clonic seizures. I had another consultation with my surgeon who advised us that whilst the tumour mass was smaller it was more difficult to get at. When he outlined the severity of the surgery, I with my family agreed to postpone any further action
Later I began to experience pain and discomfort in my right thigh. My previous GP diagnosed a groin injury, and/or a slipped disc. Seeking a second opinion, I was sent for an x–ray which revealed a wedge shape deformation to right femoral head. Being aware from my diving career that hyperbaric oxygen therapy had under the right conditions the ability to help rejuvenate bone damage, I sought advice from the nearest recompression chamber in Hull receiving a positive outcome.
The chamber clinician, Gerard, believed that it might help rejuvenate the hip bone damage or at least increase the oxygen saturation to relieve pain. Although a BUPA private hospital, he was willing to offer me five weeks of twice weekly sessions as a trial experimental treatment program at no cost. The sessions lasted an hour each, and I shared the six man chamber with people with a range of diseases. I completed a weekly report of how each session went and what benefit I had found. I did find it quite helpful. Towards the end of the trial I was pleased to have a further 5 weeks treatment. It was helpful and whilst it is costly, it is a shame that it is not available on the NHS as it would aid those in a similar position. Gerard was aware of my tumour problems and suggested I get in touch if further surgery was pending, unaware that it might not be too far away.
With increasing seizures in January 2004, I had additional MRI scans done which revealed the temporal lobe tumour had grown. The tumour was at a point where surgical intervention was necessary. My neurosurgeon outlined the second craniotomy as an Orbito Zygomatic approach. It was far more invasive with some of the cheekbone being removed and delicate work around the optic chasm. With the approval of my neurosurgeon, late in the evening the night prior to the surgery, the chamber clinician picked me up for an extended hyperbaric session. He suggested that a three hour session on 100% oxygen would boost my system in advance of major surgery. I felt that this time round, the surgery was easier. Was it because of my previous experiences and/or the hyperbaric oxygen treatment? I can't tell for sure, however, I had fewer problems than those of 1999 and my recovery was a little better. I suffered double vision in 1999 and was prepared to have it again, although this time round it has become a permanent problem.
During the years through surgery and rehabilitation, there have been positive  moments throughout my journey with the epidermoid brain tumor.  I have released two books concerning an overview of sub aqua diving with the second one sanctioned as the an official manual of the UK's diver training Sub Aqua Association organization.   A life time project has become my third book, Into the Maelstrom: The Wreck of HMHS Rohilla (His Majesty's Hospital Ship Rohilla).   The SS Rohilla was a former liner built by Harland & Wolff and lost in a severe gale in October 1914 off Whitby coast.  The wreck is the closest large wreck from the harbour, and the one which I used when introducing students to open water diving.  My book is the  story of the heroic rescue of 229 people on board with the loss of 84 lives.  Writing the book I established contact with many families of those involved during the tragedy, this personal aspect has endeared me to the story. Following the release of the book I started to receive letters sent on by the publisher from people who had a connection to the tragedy, from these I have learnt more about the individuals whom lost or survived even involving myself into friendships with the Rohilla lost victims's families.  One of the former lifeboats, the William Riley was found derelict in 2005 but fully restored. As one of the initiatives, we launched a "Sponsor An Oar" scheme inviting people to sponsor one of the lifeboats ten oars. My wife and I were pleased to be one of those involved and dedicated our oar to all the Rohilla victims and especially to a victim's daughter, whom we personally had bridged a friendship throughout the years of my research and writing the book.
My past career as a diving instructor with much involvement with shipwrecks, has led to a friendship with American author and marine archaeologist Clive Cussler and his son, Dirk Cussler. Being a fan of his novels, and with common  interests of deep diving around lost shipwrecks, I wrote him of my interest in his work and about my past work and this brought forth an invitation to meet with him aboard his vessel at our harbour searching for the location of the Bonhomme Richard, lost down the coast off Flamborough.  Visting the Cusslers and discussing the current expedition, brought back memories of how things used to be. It seemed quite surreal to be sitting on the bridge of a ship with Clive and Dirk Cussler as we discussed such a major expedition. Since my first surgery in 1999, I retain a close interest in the diving scene although at times detached from the daily going ons, my past life was almost as a dream. Here, it felt like I was back amongst a part of my life that I never knew I missed so much. This visit with talk that I understood was giving me such a buzz. Clive told me that at the end of this latest attempt the team will have covered a vast search area with the possibility that the wreck site might never be found? If it had been successful then I would have felt quite proud that I have had my own small part to play. To date he has mounted consecutive expeditions.  At that time, I had no idea that this meeting was going to lead to a long standing relationship. Since then I have acted as an intermediary with another search on their behalf, even finding them another charter vessel when the Ocean Dancer had been sold. It has been such a beneficial relationship
The year 2005 saw more surgery this time for a full hip replacement. I have endured numerous surgeries since then for one thing or another, but I have so much to be thankful for. It has been a bit of a rollercoaster health ride. I've had to retire from what was a major part of my life yet turn a career of being a deep sea diver, explorer, and teacher along a new path as second career as a writer, maritime historian, webmaster with over 400 online pages, and connoisseur on all things HMHS Rohilla.
EBTS Note: In submitting this article, Colin remarked, "I am really proud of my books which have seen me through some very dark times. My wife was at first skeptical when I announced I was going to write a book, as my schooling was not very productive." This statement is remarkable in that in having to be medically retired after his first surgery that his new focus turned to the passion he knew about. His love of deep sea diving is productive in keeping him still engaged in his past.  Colin's latest work, the 2nd. edition of  "Into The Maelstrom" was released on the 22nd of this September, 2014 , along with its Kindle edition.  Colin Brittain can be contacted via his website: