For everyone who has faced – or watched a loved one face – serious illness, chemotherapy, radiation, and the dance between patients, doctors, and insurance companies: here's Ilene's story.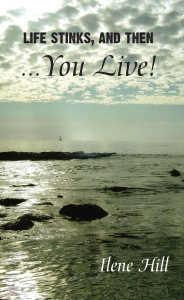 Ilene A. Karagozian-Hill, wife, mother of three sons, and business owner, tells her personal story of how a brain tumor diagnosis impacted her active and growing family.
In a 2010 inspirational memoir titled, Life Stinks and Then…You Live!,  Ilene wrote about her life journey with the epidermoid diagnosis stating, "I learned that the world doesn't wait one second for you to heal, and that no matter how you feel, the kids still need to have dinner on the table and get to hockey."
For twenty years, Ilene battled a brain tumor while staying busy as a wife, mother of three active boys, and a small-business owner.
Beginning in 1987, after the birth of her second son, the crippling headaches that had been with her all of her life worsened. She battled unusual medical problems consisting of episodes of double vision, unconsciousness, memory loss, and two near-death experiences. Seeking medical attention, she was misdiagnosed for years and had five brain surgeries for treatment with no improvement and conditions worsening.
Even though her insurance provider resisted, Ilene flew to North Carolina for one more surgery from a world renowned skull base neurosurgeon, Dr. Takanori Fukushima, Carolina Institute Neuroscience, Raleigh, N. C., USA.   She has been one "tough cookie" dealing with wrong diagnosis and too-quick recommendations from doctors to uncooperative insurance companies. Ilene writes in her autobiographical book of a knock-down, drag-out fight with her insurance company denying much needed coverage before she finally got the surgery needed, performed by the one neurosurgeon she trusted. She cites that she wouldn't take no for an answer, and she won!  Ilene became her own advocate.
Ilene A. Karagozian-Hill grew up in Oak Park, Michigan, and graduated from Wayne State University. She and her husband, Scott Hill, own and operate Main Floor Covering Carpet One in Royal Oak.  A one-time candidate for mayor of Royal Oak, Michigan,  Ilene has been a leader in community efforts and was honored by the Downtown Development Authority for her service.  She is passionate about teaching Pilates.  As an Advanced Master Gardener, she enjoys and finds the time to tend to her gardens.  With an interest in keeping fit, she participates in many charity walks around the country. Recently she completed a walk for St. Jude's, Nashville, Tennessee. Ilene not only "walks the walk" with other epidermoid brain tumor survivors, she is an amazing  and an inspirational member of the Epidermoid Brain Tumor Society.
For more information http://www.lifestinksandthenyoulive.com