Usually we (the patients) tend to focus on our medical needs and forget about the person that is standing quietly off center, our caretakers. We know of many caretakers that have "walked the walk" with us and still do. They are there for us 24 – 7 meeting all of our needs. They are waiting at our appointments with surgeons, at our MRI appointments, and always anxiously waiting and waiting as we go through surgery. We also cannot forget about the post-surgery time, when we, as patients, need to gain what has been lost with surgery. Our caretaker is always there and we can never thank them enough!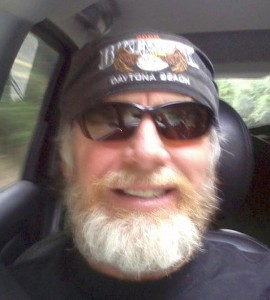 Meet our caretaker John Kay and his wife, Donna, from Oregon, USA
Donna Kay, with John standing by her side, has gone through two major brain surgeries. They met as seniors in high school in 1975 and have been married for more than 34 years. They are parents of two grown children and recently became grandparents to their first grandchild as of Nov. 1, 2012.
Life was good in Oregon until Donna began having symptoms. Symptom after symptom presented consisting of headaches, balance, nausea, memory problems, changes in personality (all classic brain tumor symptoms) and these symptoms gave a reason for investigation with MRIs. When a huge 6 cm X 5 cm epidermoid brain tumor was found in the skull base, after consultation with the neurosurgeon on a Friday morning at 8 AM, surgery was immediately scheduled for Monday morning at 5:30 AM. In October, 2004 in Oregon, John had never heard of an epidermoid brain tumor. The surgeon said it needed to come out. There was no other option for them. In hindsight, after learning and researching about the epidermoid brain tumor, John knows that they could have waited for months to learn more about this damaging brain tumor in the skull base with characteristics of being congenital and slow growing.
With the huge size of the cystic epidermoid brain tumor, surgical resection was not possible because of damage to structures and the cranial nerves at the location. Donna's surgery resulted with only debulking the brain tumor with the tumor remaining half the size as it was before surgery…. a disappointment for Donna and John. The follow up MRI showed around 50% of the brain tumor left. The removal of an epidermoid brain tumor must include the entire cyst, both the contents and the lining. The more complete the resection, the less likely the cystic tumor is to return. Even though Donna's surgery was conservative in not excising the brain tumor, the first surgery did cause deficits. The morning after surgery, Donna was paralyzed on the right side, had a pronounced facial droop, was unable to communicate, could not track with her eyes, and had difficulty with eating and drinking. It was as if she had a stroke. After assessment of the extent of Donna's deficits after surgery and its effect on the patient's function and safety, Donna was declared disabled. Her life's career as a veterinarian's asistant had been her dream job and one in which she excelled. Never again would she be able to do this type of work. Never again could she drive. Never again could she keep her household tidy, cook or shop. She has healed but balance problems are still with her, along with short term memory problems and she has made progress post- surgery. Life changed for Donna, and John's way of life changed as he became the caretaker.
On joining the epidermoid brain tumor community, John was informed by other patient members of a renowned international neurosurgeon of the skull base that had been successful in totaling many epidermoid brain tumors. He was more experienced than most surgeons with the epidermoid brain tumor. The epidermoid brain tumor is only 0.2 – 1.8 % of all brain tumors diagnosed. Only a few neurosurgeons in their practice are ever exposed to the epidermoid brain tumor because of rarity. John Kay did his research making the choice of an experienced skilled skull base neurosurgeon for the second surgery, John thought it might be possible that Donna could be helped and to also ward off frequent surgeries for regrowth.
Donna had a second surgery in November, 2005, by Dr. Takanori Fukushima of The Carolina Neuroscience Institute in Raleigh, North Carolina. John commented that this keyhole approach second surgery afterwards was the difference between night and day. In ICU only l – l/2 days and 6 days in the hospital, Donna walked out of the Duke/Raleigh hospital and was able to fly back home to Oregon, a 3000 mile trip. Her recuperation was faster and much easier with no deficits except those  from the prior surgery. Since the epidermoid brain tumor is a recurrent one, the tumor had regrown even larger since the first surgery in 2004, therefore the tumor could not be excised totally at this time in 2005 without doing harm to the nearby structures of the brain. The epidermoid brain tumor is noted as being a tumor that adheres to structures and cranial nerves leaving many neurosurgeons having to withdraw before total excision as to not harm cranial nerves at location. Yet, this surgery was a great success for Donna.
Recently, Donna's MRI has shown recurrent growth. Eventually with more growth come symptoms, and the expectation of another surgery.
John was a professional firefighter of 33 years and had to be at the firehouse off and on for days. His organization plans at home were planned that he can leave Donna alone but he was aware that she does have memory problems with daily duties. As he has mentioned, he never knew what to expect when he got home.
He widely reads and searches the internet for anything that will help Donna's memory loss. John admits there are good days and bad days. His regret is that Donna's surgery could have waited until they understood more about skull base surgery and the risks at the location. Time would have allowed them to search for 2nd or even 3rd opinion about surgery as a watch and wait patient.
Donna is now happier with 2nd surgery, and she enjoys the small things in life and cherishes each day. John, using his wit to relieve the pressure of caring for Donna, compares his and Donna's life with the movie, "50 First Dates". This movie is about a traumatic brain injured patient and her boyfriend, reliving the same day over and over. John comments that it is his and Donna's life also as they walk the walk.
Throughout the years John has been a strong supporting member of the EBTS Community, membership has grown because of John Kay, and his dedication of supporting and aiding others who suffer with the epidermoid brain tumor.