A story about running, survival, facing your fears, and doing it anyway.
It's 7 pm on Wednesday night, and it's go-time. Luis is standing at the back of a Fleet Feet Sports shop, surrounded by some of his most treasured objects – running shoes. Most of the shoes are adorned with bright colors and reflective material, but they can't compete with the main attraction of the night. Those of us who've shown up to hear him speak can feel our attention drawn from the flashy shoes on the wall to Luis as he patiently waits for us to get settled among the chairs and benches facing him. He's dressed in a pair of nondescript, beige pants and a bright blue t-shirt with the words "Kicking ass for time" splashed across the back. His feet are laced into a pair of New Balance Minimus running shoes and he's wearing a bright, welcoming smile. His manner exudes an air of nervous confidence, leading me to believe that giving motivational talks in a (somewhat) formal setting might be a new experience for him. Even so, his apprehension is punctuated with energetic anticipation. Luis is about to take us on a sixty-minute journey through his life, and he's pumped about it. His mission? To teach us how to face our fears and achieve our goals. We would soon learn that he was a personal expert on the subject.
His full name is Luis Velasquez, a self-proclaimed endurance junkie and part owner at a local CrossFit gym. But as he begins to take us through the story of his life, we quickly learn that Luis is far more than that. He is a survivor, and in more ways than one. Luis was born in a small town in Guatemala, Central America. He tells us that when he was growing up, he always knew that he wanted to see the world and was determined to make it happen, no matter what it took. After completing high school in Guatemala, Luis received a scholarship to attend a community college in Reedley, California, where he obtained his associate's degree. He felt that he had acquired the tools that would enable him to climb the corporate ladder and see the world. Luis returned to Guatemala and took a job working at a rose farm. He quickly learned that an AS degree alone was not going to take him where he wanted to go. He began visiting all of the embassies in Guatemala, seeking a scholarship that would allow him to travel abroad and continue his education. He succeeded in finding a scholarship – "Well, I found three, actually," he says with a laugh – and was on his way back to the United States, with high hopes and big dreams leading the way.
Once he came to the U.S. Luis got right down to business. He obtained a bachelor's degree, a master's degree from Florida A&M University, and a PhD in biochemistry from Michigan State University. Luis stayed on at MSU for a time, taking a position as a visiting assistant professor, before heading south where he landed a job at Rice University in Houston, Texas. He'd made himself into an academic juggernaut, reaching the level of success he had always known he was capable of. Along the way, he met a girl and got married, bought a house, and settled into a happy routine.
Just when it seemed like everything had fallen into place, life dealt Luis a heavy blow in the form of a brain tumor, and the very real possibility of a future cut short.
As Luis is talking, he advances through the slides of a presentation he has projected onto a screen. He stops on a slide displaying a picture of a human brain – Luis's brain – with a large, grey mass clearly visible in the middle. The pained silence in the room is palpable and even Luis seems to have lowered his voice as he tells us about the diagnosis that explained his headaches and blurred vision, and that would eventually rewrite the future he'd laid out for himself.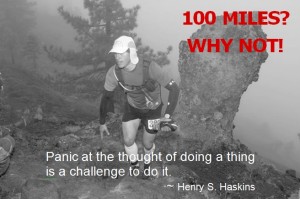 Luis's simultaneous journey as a brain tumor survivor and an ultramarathon runner began with the Chicago Marathon. The day after his diagnosis, he told his wife that he wanted to go watch the race. She was devastated of course, and couldn't understand why he wanted to waste time watching some race when their lives had been so painfully altered. Shouldn't they be focusing on his health, learning about his tumor, planning out the next step? Nope, Luis tells us, he just wanted to watch the marathon.
Luis and his wife went to watch the Chicago Marathon that day and what he saw there awakened a drive within him that still propels him forward ten years later. He saw that many of the runners were wearing t-shirts that advertised different charities and causes they were running for – diabetes, heart disease, cancer, and others. Many people were wearing signs that stated they were cancer survivors, domestic violence survivors, breast cancer survivors, brain tumor survivors, and so on. Luis said to himself, "I want to do this." He turned to his wife and said, "I want to run the Chicago Marathon next year, and you're going to run it with me!" Naturally, she thought he was crazy. He had just been diagnosed with a brain tumor, they didn't even know if he would be alive next year, and he wanted to train for a marathon?
Luis spent the next year planning for his first marathon and recovering from brain surgery. He and his wife ran the Chicago Marathon in October of 2004, exactly one year after being diagnosed with the brain tumor. He was hooked. Luis continued running and started signing up for marathons on a regular basis. He had discovered a passion within himself that he hadn't known existed and he couldn't get enough.
Although the brain tumor was partially gone, it had been a difficult experience and Luis's trials and tribulations were not over. Between 2003 and 2005, Luis and his wife were divorced, he lost his job and his home, and his head wasn't in his work anymore. Luis remembers thinking that it may have been easier if he'd died.
But Luis didn't die; he survived. Not only did Luis survive, he made the decision to reinvent himself. He sold everything he owned and took a consulting job working in the Middle East. This was the job that would eventually bring him to the Bay Area in 2007. His employer gave him the opportunity to live and work in San Francisco and four months later extended him an offer to stay. The perks weren't what they had been in the Middle East – he no longer qualified for expatriate allowances and had to pay his own rent and car expenses – but Luis had found his home.
Throughout his reinvention, one thing hadn't changed; Luis wanted to run. He decided to sign up for the Mt. Diablo Marathon, confident that it would be easy, or at least no harder than all of the other marathons he had run. The important differentiator – that all of those other marathons had been run on mostly flat ground – didn't cross his mind. On race day, Luis was surprised to see that only 40-50 people showed up. He was used to seeing hundreds of people gearing up to run. This was the first sign that something was wrong, but Luis shrugged his shoulders and carried on. The starting gun went off and Luis was on his way to completing his first Bay Area marathon. Well into the race, he became aware that he had taken a wrong turn. Little had he known that along with the marathon he had signed up for, the day's events also included an ultra-marathon. He had inadvertently veered off course, putting himself on track to tackle 50 miles of mountain terrain. Luis was horrified. There was no way he was going to run 50 miles and his only alternative was to turn around and run back to where he had taken the wrong turn. Luis did just that and ended up finishing his marathon. It only took him 8 hours, 19 minutes, and 54 seconds (Luis remembers the finishing time of his first ultra-marathon exactly).
After the Mt. Diablo Marathon experience, Luis promised himself that he would never run that far again; but his sentiment didn't last long. A week later, all he could think about was running another ultramarathon. He was hooked all over again. The reward of personal accomplishment that he obtained from running ultramarathons surmounted anything he had ever felt before. He was quickly learning that he was capable of far more than he'd ever imagined. Luis poured himself into running, participating in races every other weekend. All that participating started to become quite expensive, so Luis found a way to pay for his hobby by working at the events. He partnered up with a fellow runner and they began training together, an experience that taught Luis an important lesson: you don't have to do it alone.
With all of that excessive running, Luis naturally progressed to Ironman Triathlon competitions. Consisting of a 2.4-mile swim, a 112-mile bicycle ride and a full marathon, Ironman events are among the world's most challenging endurance competitions, earning descriptions such as "hard-charging", "mind-numbing" and "life-threatening". Luis was up to the challenge of Ironman Triathlons, but he hated the logistics of competing in the events. He tells us seriously, "I only do one a year," as though we shouldn't be amazed by his ability to complete one of the world's hardest events year after year. Luis has also tackled ultra-running at the ultimate distance – 100 miles – and was selected in 2012 to run the Western States Endurance Run. Commonly referred to as the Western States 100, it is the oldest and most prestigious ultra-running event in the United States. Runners climb a cumulative total of 18,090 feet and descend a total of 22,970 feet on mountain trails before reaching the finish.
After several years of running marathons and ultramarathons, as well as competing in Ironman Triathlons, Luis's body was beginning to protest. He was injured and unhappy; and thus disappointed in his performance.
Enter CrossFit: an exercise program that would become Luis's new passion, and the very reason why several of us are sitting in Fleet Feet listening to his talk this evening. For Luis, CrossFit offered a whole new perspective on fitness. It consisted of focused, fast and hard spurts of energy with an emphasis on strength building. The conditioning Luis gained through CrossFit enabled him to drastically cut back on the training he'd been doing for his endurance competitions. Whereas he would generally swim 250k yards in a year leading up to an Ironman competition, his CrossFit training allowed him to cut back to just 75k yards. He was also running a whole lot less. In his first event after beginning CrossFit, Luis cut an hour off of his personal record. For Luis, CrossFit had proven that more is not always better.
Through his exposure to CrossFit, Luis was introduced to the Paleo Diet, an eating plan that emphasizes the omission of processed foods. Previously, he had been a vegetarian for 12 years and a vegan for three. It took Luis a year to make the leap from vegan to meat eater, but he hasn't looked back once. He attributes his departed allergies and improved sleep to the diet and believes that it has contributed to his improved health overall.
Luis goes on to tell us that last year, his brain tumor returned. He underwent another round of brain surgery and lost his job again, but endured a considerably less difficult recovery compared to the first time around. He credits CrossFit, fitness, positivism, and happiness as the secret formula for a quicker recovery.
The 60 minutes is nearly up and Luis has arrived at the central theme of his talk: change happens – fear happens – but we are much stronger than we think we are. For Luis, and many others, endurance sports are a perfect example of this. "One hundred miles…", Luis starts, holding up a fist and grinning, "…glory!" A desire to face our fears empowers us to take risks, find clarity, and achieve our goals. Luis advances to another slide and my eyes glide over the words, "Your goals are dreams without legs – tomorrow starts today."
I find myself nodding as Luis looks over the small group of people, all of us listening intently to his every word. "If you are afraid to do something," Luis urges, "go and do it anyway."
Put some legs on your dreams . . .
June 25, 2013 Article by Tara May, freelance writer and editor, writes and edits for BeyondTheFear.com. 
EBTS Note: 
Luis Velasquez, EBTS member, is the quintessential multi-tasker, research scientist, international business consultant and entrepreneur. He is an endurance runner, brain tumor survivor, and the most optimistic person in the world.
Luis joined the Epidermoid Brain Tumor Society just before his second surgery for the epidermoid. EBTS members are getting use to Luis' way of "getting on with life", which is to have the most positive outlook. He supports EBTS members with his cheerful one-liners full of advice. We are lucky that he stays with us and motivates members, because having surgery for a brain tumor can be downright depressing. Sometimes we are not that cheerful, but Luis is. He leads a busy life and yet, when a EBTS member is facing surgery, Luis is there for them. He not only gives good vibes for surgery and recuperation, he motivates with his own life. Luis did not stop with his first college degree, but went on earning a masters and then aimed for a Ph.D (not one, but two) which qualifies him along with his own perseverance to excel as a motivational speaker. His passion for CrossFit and endurance events is evident. He writes a blog about running: http://velasqu7.blogspot.com/, and is co-founder of the motivation webpage www.beyoundthefear.com.