Hi everyone! I wanted to thank you all for being patient with me during my hiatus. It has been many months since I last wrote an article for you.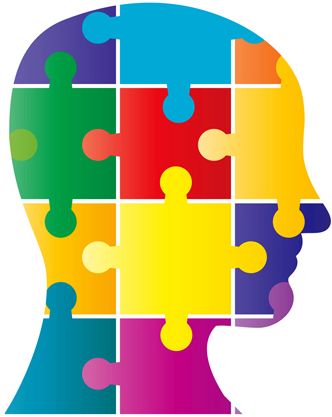 One of the reasons I have not produced anything for you is that for the past several months I have been back in the clinic seeing patients, completing a portion of my family medicine residency training. As part of this training, once a month we have a 2½ hour seminar as part of our behavioral medicine curriculum. During this time we discuss a wide array of topics ranging from bipolar disorder to child abuse, all with the aim of improving our communication skills, and hopefully help us become more empathic physicians. One of the past sessions we were treated to a fascinating lecture on a less well known personality classification scheme. Most of us have heard of the Myers – Briggs test, where after an extensive set of questions, spanning many hours, you are given a set of 4 letters denoting your personality type. For example, you might be told that you are an 'ESTJ' meaning you are an Extrovert, Sensing, Thinking, and Judgment type. While I think this can be a helpful schema, my issue with it is the time required to take the test. During our session, rather than the Myers-Briggs test, we were given a different and much shorter personality test (it literally took me 7 minutes to complete) and based on the results were given a color that matched your personality type. I have included a copy of this questionnaire below, I encourage you to try it:
Personal Style Inventory
Robert W. Russell, Portland, Oregon
Used by permission
Each line below lists two contrasting traits. Your task is to divide seven points between the two statements on each line to reflect the balance of how each best describes you. Points may be divided in any way you wish, but both sides together must add up to seven. Give high points to the description that describes you well, while giving the other side low points. Do the same on each line for Part 1 and Part 2.  For example, people who see themselves as quick in the way they handle things might fill out the first line like this:
************************************************************************ 
 5  Likes a fast pace.                    or                2  Likes a slower, more deliberate pace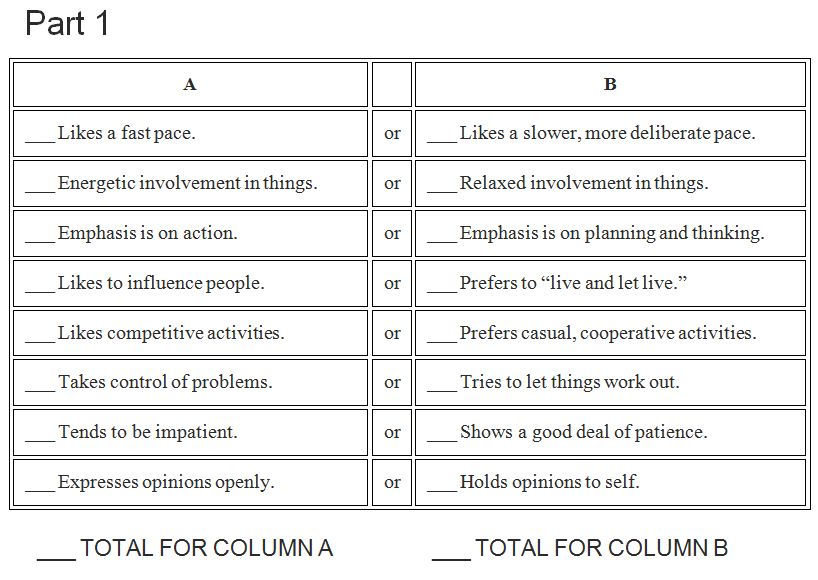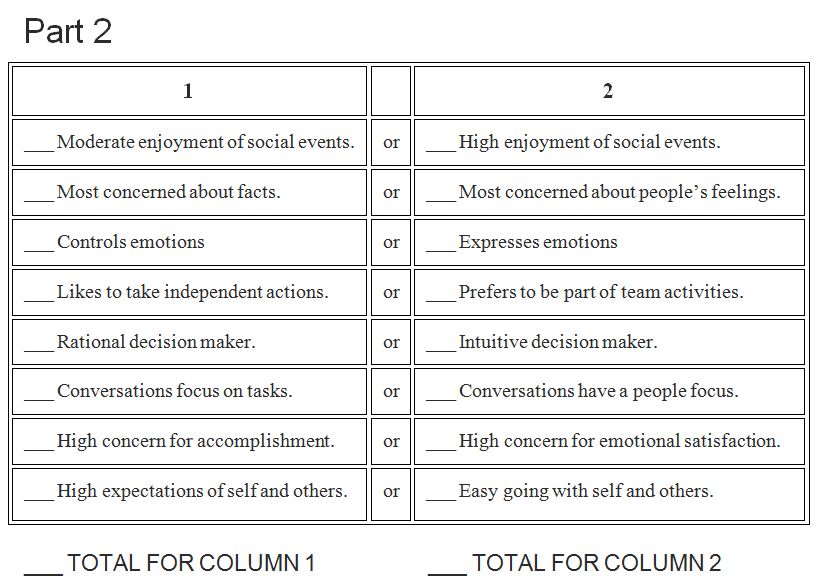 Scoring Instructions
Add up the total number of points for each column (A, B, 1, 2). the columns (A/B and 1/2) with the highest points determine your color.  For example:
A 'red' is a very assertive person, a type A personality.
A 'green' is very task oriented, they are the thinkers.
A 'blue' is very compassionate and detail oriented.
A 'yellow' is more of an introvert, and always follows the rules.
I have also included a copy of the interpretation sheet and what the various colors mean:
The Four Basic Styles
A-1 RED
TASK ORIENTED. FOCUSED ON RESULTS. EXERTS STRONG INFLUENCE IN GETTING THINGS DONE. ASSERTIVE IN EXPRESSION OF IDEAS. PREFERS BEING IN CHARGE. HAS STRONG OPINIONS.
COMMON STRENGTHS: Determined, decision maker, efficient, gets results, direct, takes charge, responsible, leadership qualities, risk taker, alert to opportunities, challenging limitations.
POTENTIAL WEAKNESSES: Dominating, unsympathetic, demanding, critical, superior, harsh, impatient, dictatorial.
A-2 BLUE
PEOPLE ORIENTED, EXPRESSES OPINIONS AND EMOTIONS EASILY. IS VERY ACTIVE AND MOVES AT A LIVELY PACE. PREFERS STRONG INTERACTION WITH PEIOPLE. USUALLY HAS MANY INTERESTS. TENDS TO BE IMAGE CONSCIOUS.
COMMON STRENGTHS: Personable, stimulating, enthusiastic, dramatic, inspiring, innovative, articulate, concern for the welfare of others. Looks for ways to be helpful, friendly, tries to avoid being a burden to others, warmhearted.
POTENTIAL WEAKNESSES: Opinionated, excitable, phony, flighty, reactionary, exaggerates, showoff, pushover, bleeding hearts, doormats, too social.
B-1 GREEN
DATA ORIENTED, LIKES THINGS TO BE WELL ORGANIZED AND THOUGHT OUT. PREFERS SPECIFIC PROJECTS AND ACTIVITIES THAT CAN BE SYSTEMATICALLY WORKED ON. ENJOYS PUTTING STRUCTURE TO IDEAS. THOROUGH AND CAREFUL ABOUT DETAILS.
COMMON STRENGTHS: Industrious, persistent, serious, vigilant, orderly, rational, methodical, factual, thorough, planners, thinkers, analyzers.
POTENTIAL WEAKNESSES: Indecisive, picky, withdrawn, data-bound, uncommunicative, critical, unsympathetic, analysis-paralysis.
B-2 YELLOW
SUPPORT ORIENTED. STAYS OUT OF THE LIMELIGHT. LIKES BEING PART OF CORDIAL AND FRIENDLY GROUPS. HIGH CONCERN FOR GOOD RELATIONSHIPS. SEEKS STABILITY AND PREDICTABILITY.
COMMON STRENGTHS: Flexible, cooperative, supportive, friendly, willing, dependable, personable, sincere, helpful, team player.
POTENTIAL WEAKNESSES: Conforming, retiring, overly sensitive, dependent, unpredictable, wishy-washy, hides true feelings, sarcastic, chameleon, the "company man/woman". 
Personally, before this lecture I despised personality tests; I hated the idea of being labeled and I also frequently find flaws in their findings. Yes, that's true about me I will think, but this is definitely not like me. This test was different though, while yes it did label me as a certain personality, it was also incredibly accurate. Every bullet point that described my personality, my 'color' was true.
But what was the purpose of this test? For us, it helped us better understand ourselves and others, and hopefully will aid us in our interactions with colleagues and patients. But why should that exclusively help physicians? All of us have our color, knowing it will not only help us become more self-aware people, but it will also help us better understand others and where they are coming from. For us, even though we share the commonality of either suffering from Epidermoid Tumors or having a loved one afflicted with the condition, we are all individuals, different people with different personalities. It is impossible for any personality test to be 100% accurate, they are simply aimed at classifying your personality with few errors. For me the accuracy of this test was striking, with such little preparation time. More importantly, it highlighted to me the importance of self-awareness and how all of our interactions with others can be made better with this understanding. Take the test, find out what color you are. What color would you label your loved ones? Are there certain colors you are drawn to? For me, I turned out to be a 'yellow' with my wife being 'green'. But I realized that a team filled with either yellows or reds would not make an effective team – you need diversity in colors to make a good team. Tell me what color you are, and what color your loved ones are.